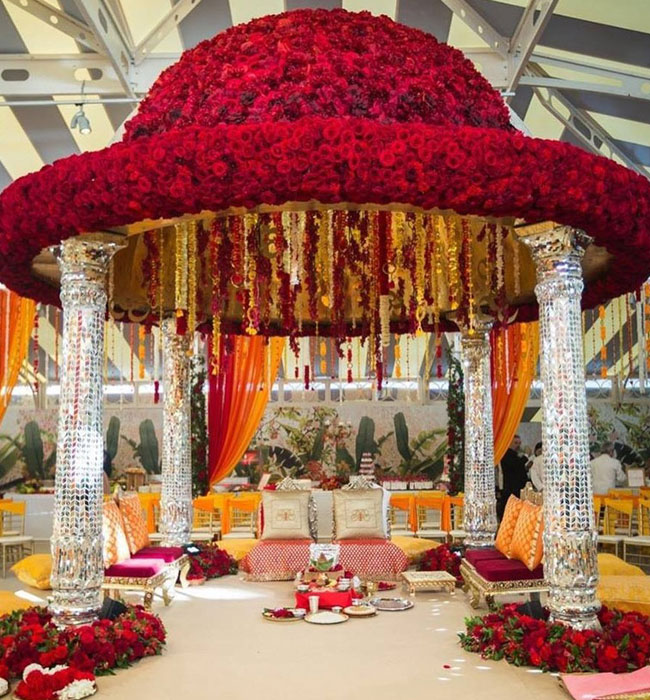 Beautiful Indian Decorations & Mandap Hire Service In Wollongong, Sydney
–We Deliver Designs Straight From The Realm Of The Gods Along With Their Holy Blessings.
"Every once in a while, right in the middle of all the mundane, life often surprises us with a fairy tale."
To most passionate Indian couples wanting to embrace the holy union and become partners for life, their grand wedding ceremony is that fairy tale surprise which life bestows upon them. And that reverent spot where both bodies and souls become 'one' is the wedding Mandap.
Your grand wedding deserves a grand Mandap to begin a new chapter of your marital life. And therefore it goes without saying that you want it to appear an epitome of beauty, grace and inspiration.
A ROYAALE EVENT – as your elite specialists in creating captivating Indian Mandap decorations in Wollongong, Sydney will only use the highest quality decorative items, beautiful lighting and vibrant flowers to provide you with an unforgettable wedding experience. Our experienced team will take care of each of these key adorning elements and turn your wedding Mandap as the focal attraction of your crucial, life-changing episode.
Get In Touch For Our Cheap-priced yet Best-in Quality Indian Decoration and Mandap Beautification Hire Services in Sydney.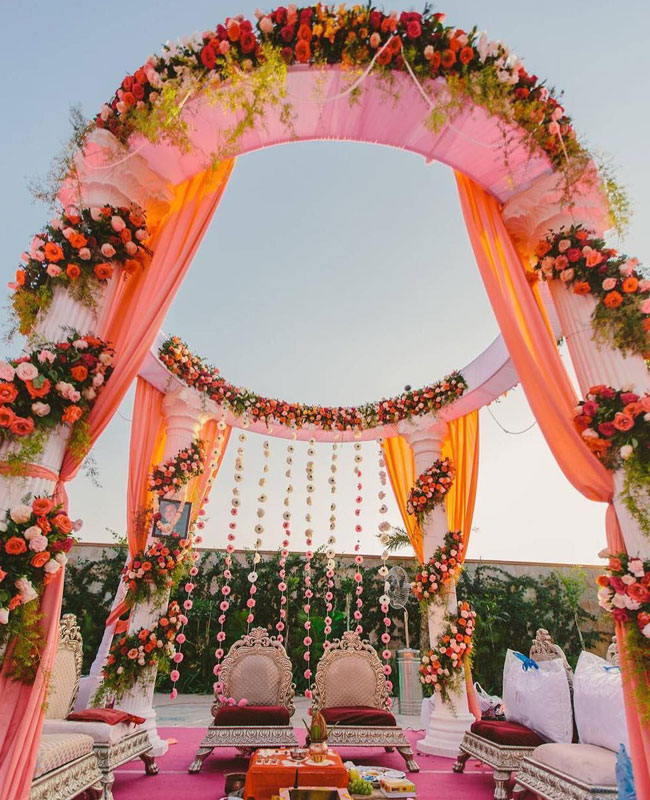 We Give You Opulent & Well-Embellished Wedding Mandaps
This entire concept of creating a wedding Mandap comes with an interesting story. In the past, when the open grounds were not considered very sanitary for any holy ceremonies, families conducted their wedding rituals within the 4-walls of their God-blessed homes in the presence of pundits or revered gurus.
That was how the entire concept of creating a holy wedding Mandap came into existence. But as time rolled by, there were plenty of changes seen in the evolution of wedding Mandaps. Now Mandaps have moved out from within closed doors to open spaces, holy grounds, event venues and even sea-beaches. But despite these changes, the charm and holiness of Indian weddings have remained intact. And it continues to inspire young couples to stay in touch with their roots and embrace the holy matrimony in its truest colour and essence.
As your trusted Mandap decorators in Wollongong, we understand that your wedding Mandap is the most sacrosanct spot at your wedding venue. This four-pillared stage is where all the important pre-nuptial sacraments are carried out to the best ability and knowledge of both families keeping the all-mighty at heart!
To give you a fully adorned Mandap which best compliments the ritualistic importance of your marriage customs, our decorators will prepare it with floral displays aptly swathed in vibrant hues.
We accept that with the tick of time, the style and décor of Indian Mandaps have transformed from what it was in the past. In today's time, to-be-married-couples look for more unique-styles, colours, finishes and shapes to make their holy matrimony an event for the ages.
Our Indian wedding and Mandap décor experts operating in Wollongong, Sydney, are well-versed with all the unique Mandap styles and trends which are more favoured these days. Plus, having served so new couples with their Mandap decorations across the region throughout our tenure; we also have a real-time idea of what works best for most and what doesn't.
To transform your grand wedding episode into a memorable experience, our diligent and experienced team of wedding planners will use all that field knowledge to create an opulent & well-embellished Mandap which touch your heart.
"For your 100% service satisfaction; our wedding Mandap decorators will work closely with you. And will accordingly incorporate your preferred choice of décor items be it in lighting, satin or silk drapes, the colour scheme, shape- square, circular or any other; to turn your vision into life!"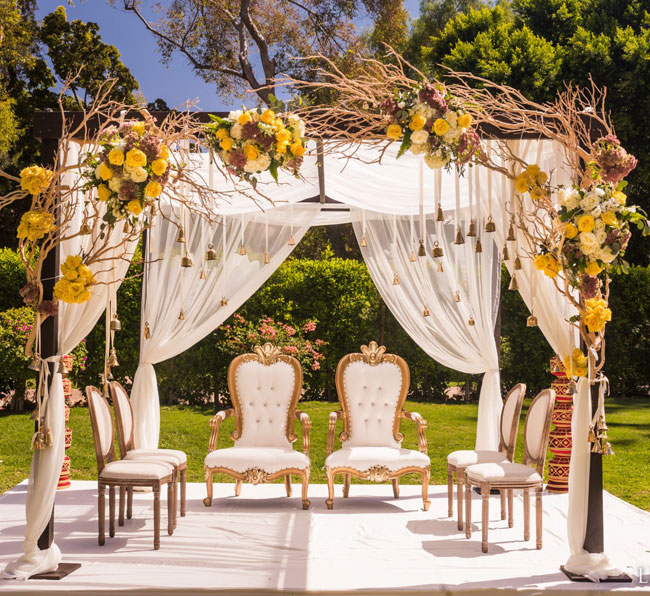 Our Mandap Decorators Can Also Merge Modern & Traditional Designs
Our quality Indian wedding decorators will firstly take note of all your requirements with your preferred Mandap design. They will even suggest you with modernistic décor trend with the promise of using advanced accessories.
Regardless of whether you want a complex Mandap design or a simplistic stage, we will come up with unique and eye-catching concept best suiting your wedding ceremony. If you want the best of both worlds- like a customised Mandap merging both modern and traditional design; our experts will happily bring that to life.
"Our vast experience in planning Indian wedding events over the years has allowed us to gain a positive reputation in the region. All our clients respect us, love us, and even refer us for our quality work. And on booking us as your competent and experienced wedding Mandap decoration specialists; we will strive to win the same level respect and trust in your eyes."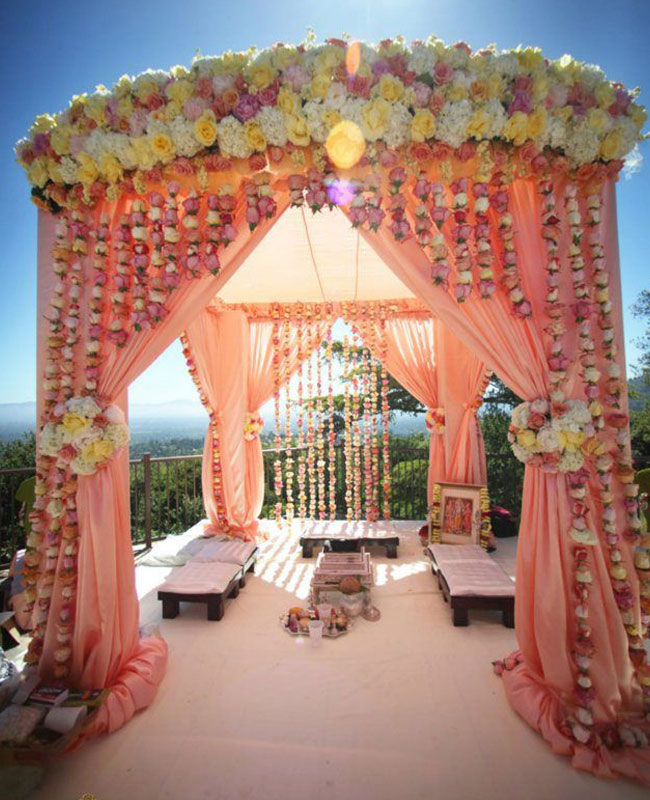 A Look into Our Impressive Range Of Indian Wedding Mandap Designs
A ROYAALE EVENT offers you with a wide range of impressive wedding Mandap designs for your fairy tale-like wedding episode. Our experts can provide you with –
Fresh floral Mandaps
Bollywood style / Jaipuri Haveli wedding Mandap
Golden Jali Mandap
Bollywood-inspired Surya Mandap
Round Fabric Mandap
Square Fabric Mandap
Rustic styled Mandap
Roman Mandap
Pergola styled wedding Mandap
Bollywood-inspired Golden Sahara open wedding Mandap
Peacock 6-pillar wedding Mandap
Silk Wedding Mandaps with floral embellishments
(And Lots More…)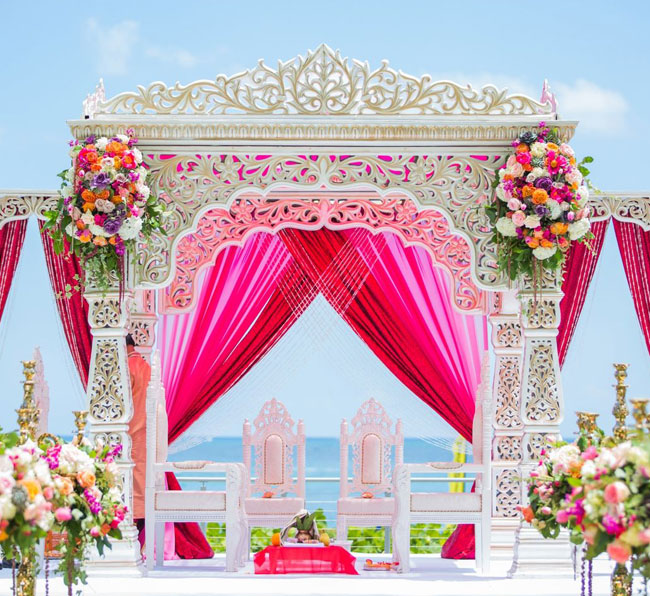 Other Wedding Mandap & Venue Decorations to Make You Feel like Royalty
Along with custom designing your holy wedding Mandap with the best materials, we also offer you a wide range of larger-than-life white bridal thrones. The whole point of our endeavour is to make you and your partner feel like royalty.
Each of our thrones proves great for photography sessions too, be it pre-post the wedding and even at your reception ceremony. Our experts will even help you design this standout piece of bridal throne with your preferred choice of linens, flower adornment, or with whatever you request.
"To complement your wedding's focal point; A ROYAALE EVENT also provides you with a host of many other decorative items. They include signage, backdrop, easels, linen chair sashes, ceremonial items and a variety of floral, rustic, candle and crystal centrepieces to augment the aesthetic appearance of your hallowed wedding Mandap and its surrounding setting."

"So if you are planning to embrace the holy union sitting in front of the 'Sacred Agni Kund' the revered witness to the 'Wedlock', the 'Vows' and the 'Saat Pheras'; GET IN TOUCH with our experienced team at A ROYAALE EVENT.

We, Will, Deliver You A Wedding Mandap Design Straight From The Realm Of The Gods Along With Their Divine Blessings."